Hobonichi vs. Bullet Journal Compared: Which Is Better?
*This post may have affiliate links, which means I may receive commissions if you choose to purchase through links I provide (at no extra cost to you). As an Amazon Associate I earn from qualifying purchases. Please read my disclaimer for additional details..
Planners have become a great necessity for everyone these days when a busy day is not something that happens once in a while but becomes a lifestyle. But instead of feeling inspired, you have anxiety. How to start? Which planner to buy? Is it too expensive? Is it enough?
Don't worry, it is totally normal to be overwhelmed when seeking the answer to a dilemma like this. In this article, we'll help you to select a perfect planner by discussing the two most popular ones – Hobonichi and the bullet journal. ­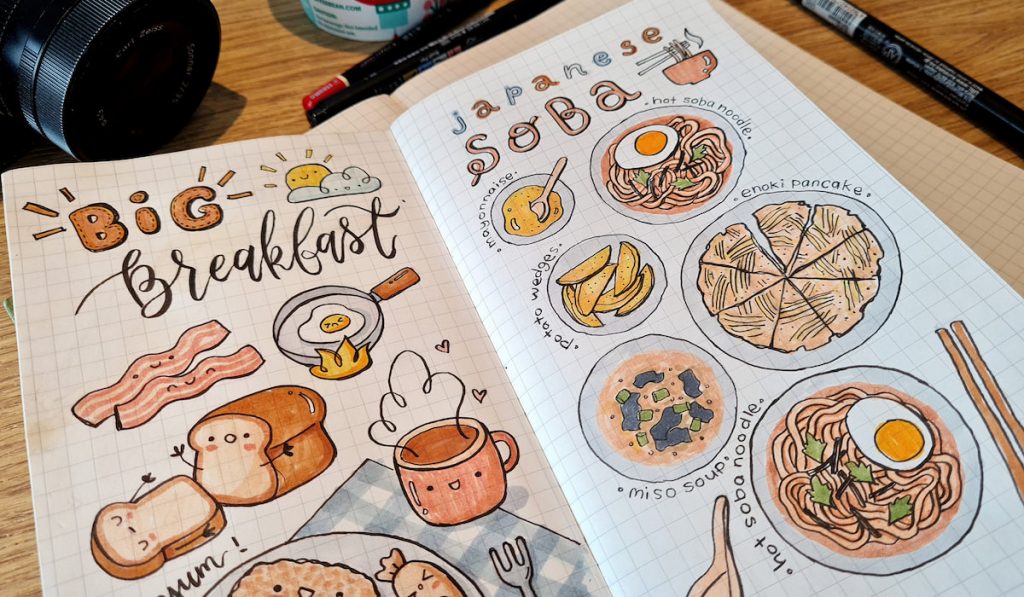 Advantages of Hobonichi
1. It is Classy Yet Customizable
The classic Hobonichi Techo planner is black and just oozes elegance and minimalism. But hey, not all of us are into that "bougie" style. Sometimes we just want it…cute! Luckily, the Hobonichi company sells amazing covers to satisfy the needs of even the most pretentious organization geek. Like us.
Not only are there cute pastel covers available, but also some other classy leather covers, or just a practical transparent one (cause we don't wanna make our plans dirty). And you know what else? They have pockets!
So you see, the Hobonichi covers are really comfortable and practical, not just pretty. Aside from the pocket, it also has a loop for a pen and a high-quality bookmark. Whatever you choose, the producer took some time to make the experience satisfying.
2. You Can Pick Your Size
Another important feature of Hobonichi planners is the variety of sizes. As of today, there are six different sizes, with each having its additional specialty:
Planner (A6): a standard one. And the only one available in English.
Original (Techo) (A6): unlike the previous, has two separate planners for two halves of the year to prevent bulk.
Cousin (A5): Same as Techo, but with a weekly spread.
Day-Free (A6+A5): Also identical to Techo, but includes daily pages that don't have dates, so you can start it whenever you like.
Weeks (around 3.7×7.3 in. size): You guessed it, this one also has weekly spread, but is more convenient due to its size. Also has a mega version that has three times more graph paper at the back.
5-Year Techo (A6+A5): very convenient if your favorite question is: "Where do you see yourself in 5 years?"
Basically, you can choose the planner that suits your organizing style the most and enjoy the comfort of fancy notes. You can also try and experiment with several of them, your planner – your rules!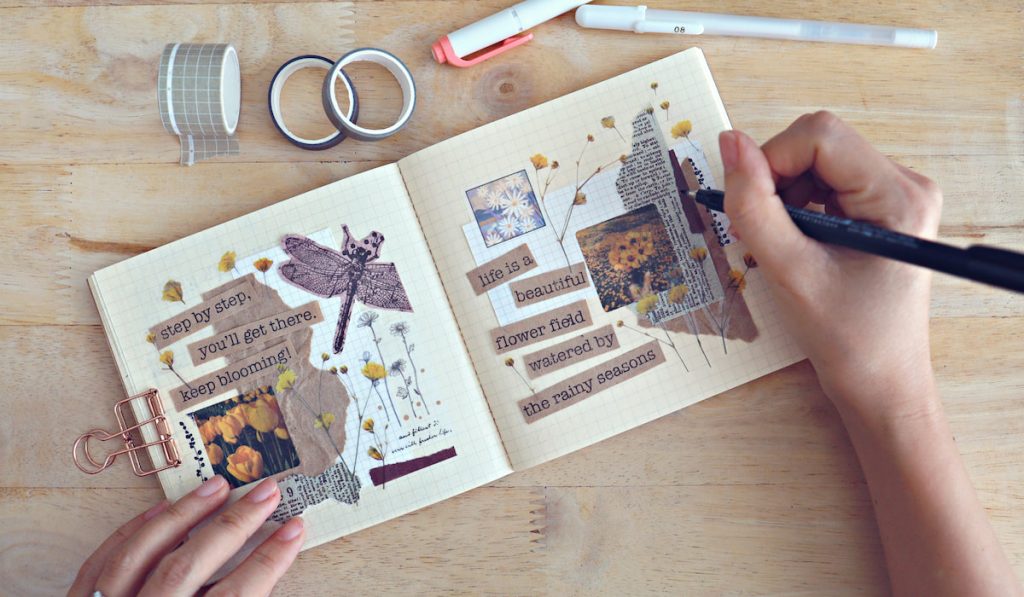 3. Multifunctional Use
One of the biggest advantages that differentiate Hobonichi from other planners is definitely its flexible usability. You can easily adapt Hobonichi to your needs and keep notes efficient and aesthetic.
Not sure what you want to use this planner for? To give you a bit of inspiration, take a look at these creative ideas:
Daily schedule log: If you feel like you're lagging behind the whole world, and you start to panic trying to organize all the things you need to manage throughout the day, try writing all the essential tasks, daily schedule, to-do lists, notes-to-remember, etc. in the Hobonichi planner.
Diary: Who didn't have a diary as a kid? Several studies prove that keeping this habit in adulthood positively affects mental health, reduces anxiety, and helps to clear thoughts and emotions for better focus. Once again, you can decorate your dairy and make it completely unique.
Expense log: Being resourceful is the new black today. As long as you're planning to carry your Hobonichi around, you can make notes of your expenses before you forget.
Art journal: Lucky you, if art is your thing! You must be God's favorite, because Hobonichi is made for you! The company uses Tomoe River Paper, which is not only thin and lightweight, but also handles water and eraser well, so you can unleash your creativity without worries.
Health and sports tracker: Being healthy today is not just a trend – it's a necessity. Even if you're not a gym buff or yoga class resident, you can still use Hobonichi to track your health records like height, weight, sleeping schedule, daily menu, and so on.
and many more…
Disadvantages of Hobonichi Planners
Unfortunately, nothing is perfect. Even Hobonichi. But what can be bad in such an all-around planner?
It's Too Much
If you've just begun using planners, Hobonichi can be a bit overwhelming for you. At the beginner's stage, you still don't know what works for you, that's why don't rush to spend money on all the Hobonichi.
Instead, try something simpler – a small clean notebook may be enough to experiment without overspending.
It's Expensive
While all the formats and covers are really cool, they cost money. And quite a lot, especially when compared to other options on the market. For example, a Hobonichi Cousin costs around $35, while a similar Weekly or Day Planner without the famous brand name will cost half as much, if not less.
On a similar note, a 5-Year Techo will cost you 50$. So unless you know how you'll make your Hobonichi work for you, try looking for cheaper planners.
It's in Japanese
It's common knowledge that Hobonichi planners come from Japan. That means that all the quotes and instructions are written in Japanese. It's not usually an issue for the users, but maybe it would be for you. As we've mentioned before, the only English version available today is a standard Hobonichi planner.
Advantages of Bullet Journaling
It's Not Really A Journal
Bullet journaling is not about a particular journal, but rather a method of planning your daily routine, goals, or diary. Similar to Hobonichi, you can use it for tracking expenses, making a to-do list, or even as an art journal. However, unlike Hobonichi, bullet journaling has become so much more than just one thing.
Its flexibility is in the fact that you create your journal yourself. You create entries and pages that are important for you, like goals and achievements, or daily, weekly, or monthly progress on whatever you're working on.
That being said, bullet journaling is more about creating, taking responsibility, and exploring techniques that work specifically for you.
It's Not Expensive
Now that we know that bullet journaling is about technique, and not a piece of stationary to write in. What it means is that you can choose a notebook you like, whether it's cheaper or more expensive. You're free to choose.
Journaling Can Actually Organize You
Although this step is for more advanced bullet journal users, the longer you practice the simpler it gets over time. If now you're trying to juggle calendars and different online tools to manage them more than your actual plans, then bullet journaling will definitely work for you.
The bullet journal system helps to combine several organizational tools, like sticky notes, tracking appointments in Google Calendar or in your phone, in one notebook. Now that all the necessary things are collected in one space, it's more likely you'll pay attention to other tasks or notes you needed to remember.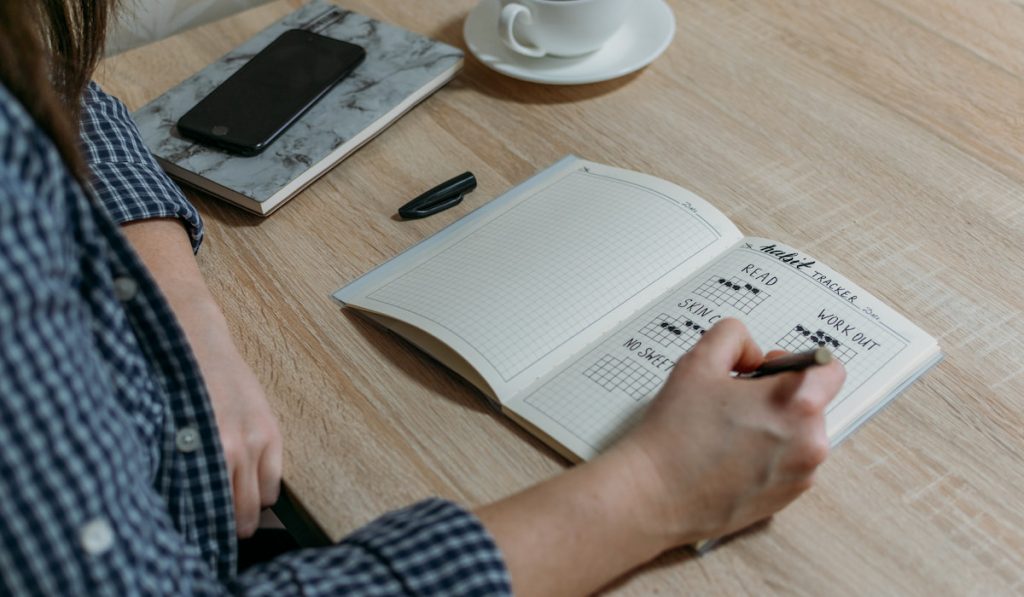 Writing Things Down Has Its Benefits
Writing things down has its benefits. Not only you can clear your head by noting important stuff, but also externalize and express your ideas on paper. This way, you can make your goals more concrete, yet less intimidating.
Keeping all the goals in your head can be stressful. Why make it harder than it requires to just work on them? Writing down goals and plans can help you visualize them better, so you can keep yourself on track without forgetting anything important.
Disadvantages of Bullet Journaling
It Takes Time to Get Accustomed
Despite being able to explore your creativity without limits, it can cause difficulties for people who don't have experience in bullet journaling.
If you're one of those people who needs a bit of guidance on how to start and what to focus on to boost your productivity, bullet journaling may be a bit challenging for you. Instead, try purchasing a cheaper planner that will have the basic yearly, weekly, and/or daily templates.
Productivity-Creativity Balance
Creativity is one of the pinpoints of bullet journaling. However, the moment creativity takes over productivity, it can have negative outcomes for your goal achievement.
Of course, sometimes it is necessary to relax and have a little art therapy. But still, you have to be careful to not give in to the false sense of productivity. For this, make sure your attention span is ready for bullet journaling so that you have a healthy productivity-creativity balance.
Final Words
Being productive is not an easy task. But what's harder is to use the right tools to manage your productivity so it is a continuous flow.
We hope this article has helped you to make this task a bit easier and more exciting. Now that you know the nuances, you can go and explore the world of planners!
Resources: