Best Planners For Busy Working Moms
*This post may have affiliate links, which means I may receive commissions if you choose to purchase through links I provide (at no extra cost to you). As an Amazon Associate I earn from qualifying purchases. Please read my disclaimer for additional details..
As a busy mom trying to keep up with your work deadlines, soccer dates, and having your grocery list taken care of, it can get daunting and overwhelming. Research done by Welch's discovered that working moms clock an average of 98 hours a week, which is similar to working two and a half full-time jobs.
A good planner is essential to track all your activities and ensure everything is done at the right time. Note that no one planner fits every mom, and you'll need to find one that best works for you.
Our detailed guide lists some of the best planners for busy working moms that allow you to keep track of all your activities but still get time to let your creativity and motivation flow. We also give you some tips on what to look for in a planner when comparing the options available.
8 Best Planners For Busy Working Moms
Some of the best planners to consider include:
The Legend Planner boasts of a design that is based on techniques proven to increase productivity and ensure you turn your dreams into reality. It's divided into weekly and monthly sections to allow you to focus on essential goals and manage time effectively.
Learn about the areas you need to improve on with the weekly and monthly reflection sections. The habit tracker section makes it easier to foster positive habits and rituals in your life.
As a mom who finds herself procrastinating a lot, the Legend Planner comes undated, which gives you the freedom to start using it at any time without wasting a page. You'll love the durable hardcover that has unique artwork and a pen holder.
Pros
Has excellent tools for goal-setting and time management
Makes it easy to break down your big goals into small, achievable goals
Comes with a durable cover, bookmarks, and a pen holder
Cons
Some users felt that it was too small for packed schedules
The Clever Fox Daily Planner is another top-rated daily planner for busy moms looking to achieve a work-life balance. It's designed with a separate page for each day with an hourly schedule and main daily goal. There's also a daily productivity review section and a personal to-do list.
Although the planner lasts for six months, it comes undated which gives you the freedom to start using it at any time. You can flip between daily, weekly, and monthly spreads with the three colorful ribbons.
As a mom with a busy schedule, you may find yourself frustrated by the lack of progress either in your professional or personal life. The Clever Fox Daily Planner makes it easy to review and analyze your progress and determine the next step of action.
Find the mind map that allows you to narrow down to five core goals for the year. With that, you can put all your effort into achieving your goals on a weekly and monthly basis.
Pros
Comes with a weekly overview page
Makes it easy to prioritize and plan daily, weekly, and monthly tasks
The review section allows you to review and analyze your progress
Daily pages have timeslots to list scheduled appointments
Premium quality pages
affordable
Cons
Some users felt that the daily planner was thick
GoGirl Planner and Organizer
❤ TAKE BACK CONTROL & ACHIEVE YOUR GOALS – GoGirl Planner will help you to create a vision for your life, define and break down your short and long-term goals in each area of your life, and incorporate these goals into your monthly, weekly, and daily agenda. Stop procrastinating and start turning your big dreams into reality!
❤ STAY FOCUSED, ORGANIZED & IMPROVE TIME MANAGEMENT – Use GoGirl Planner monthly and weekly priority sections to prioritize and focus your energy on the important activities. Manage your time effectively and never miss a deadline/meeting again by using monthly calendar and weekly planning pages.
The GoGirl Planner and Organizer for Women is designed to help you improve time management, achieve productivity, and live a more fulfilling life. You no longer have to procrastinate as the planner is designed to incorporate your goals into your daily, weekly, and monthly agenda.
The habit tracker section allows you to add more positive habits into your daily routine and stick to them.
Additionally, it comes undated, which allows you to start anytime without wasting a page. The colorful bookmarks allow you to flip between monthly and weekly spreads.
The GoGirl Planner has a PU leather hardcover, a pen holder, 120gsm pearl white paper, an elastic band, and an illustrated user guide. Its compact size fits easily in a handbag.
Pros
Comes undated so you can start planning at any time
Has tools for easy goal setting
Attractive design
Cons
Doesn't have tabs on each section to flip between weeks and months
Panda Planner Pro
UNDATED – Perfect for 2023-2024 planning. Start whenever you are ready to get organized and express gratitude!
It's easy to feel overwhelmed with the demands of modern life as a mom. With the Panda Planner Pro, you can now take back control and achieve your goals.
The undated six-month planner allows you to start when you want and focus on attainable goals. Organize your life with the daily, weekly, and monthly sections of this planner. With the built-in routines, you can easily develop positive habits and develop a growth mindset.
You can also use the notes section for your ideas or creativity. Furthermore, the end-of-day review enables your brain to focus on the accomplishments of the day and how to improve rather than focusing on what went wrong.
Pros
Designed to help you achieve work-life balance
Allows you to start at any time and focus on attainable goals
Has daily, weekly, and monthly sections to keep you organized
Comes with page markers to help you navigate the different sections
Cons
The planner doesn't cover a full year
Sale
Designed specifically for moms, Amy Knapp's Christian Family Organizer allows you to stay on top of your daily tasks, while still being rooted in faith. You'll love this organizer's space that you can use for your weekly planning, lists, and schedules.
The family organizer also comes with women's devotional, with uplifting spiritual quotes and bible verses. There's also space to write weekly praise and prayers. As a busy mom, you can conveniently use the weekly and monthly calendar spreads for tracking appointments, birthdays, and other work events.
With over 225 stickers and reminders, this planner is available in a 6×8 inch trim size with double spiral binding for easy writing. Its internal storage pocket makes it easy to store receipts and notes.
Pros
Allows you to create weekly to-do lists and plan your tasks
Comes with dates monthly and weekly spread
Has wire-o-binding for flat writing
Acts as a daily devotional to keep you rooted in faith
Cons
Doesn't have tabs for easy access
The design is not as appealing, but it's functional
If you are a busy mom looking to have control over the content of your planner, you should check out the Purple Trail Planner.
Designed as one of the best customizable planners, this planner gives you the freedom to choose your start date, determine the layout of your pages, and scribble anything else that you want. On the add-ons section, you can list critical dates, password lists, to-do lists, or your address books.
The planner is available in a 5X11 or 6×8 size and it also comes in a vertical or horizontal layout. Furthermore, you can choose from synthetic, hard, or laminate cover materials.
Pros
Available in different layouts and customization options
Free cover personalizations
Smooth pages to write on
Has large tabs that have the month printed on the front and back
Cons
Some users felt that the boxes on the monthly calendar are small
The planner can be heavy with lots of add ons
PLANBERRY Large Hourly Schedule Planner Premium
SCHEDULE & BUDGET PLANNER IN ONE – PLANBERRY Hourly Schedule Planner is a unique all-in-one tool that incorporates an hourly planner with time slots and a comprehensive monthly budget planner. Moreover, there is a yearly goals section, an events calendar, password and contact books, and many other tools to help you live every day to the fullest. With all these tools, it will be easy to manage all essential parts of your life, all in one book.
The Planberry Weekly Planner is a perfect planner for any mom looking to achieve work-life harmony and still achieve her goals. It features scheduling and budgeting spaces that allow you to assess every area of your life while tackling your daily priorities.
Another impressive feature is that the planner comes with customizable features and a stylish design. You can comfortably plan and schedule your life without getting overwhelmed.
Unlike other regular planners, the Planberry undated 52-week planner is designed to boost productivity. You can easily assign time by hourly blocks to speed up productivity, and also get some free time to reflect and catch up on other activities.
You can now enjoy your workdays having accomplished your tasks for the day without all the stress.
Another feature that stands out is the durable and luxurious look of this planner. The cover is vibrant and available in several color choices. It also includes a double pocket in the back and is spiral-bound, making every inch of the pages accessible.
Pros
High-quality construction
Undated, 52 week duration
Has tools to manage daily tasks and achieve your long term goals
Designed to boost productivity by assigning time blocks in hour increments
Spiral bound for accessibility
Comes with stickers and pockets in the back of the planner
Cons
A bit more pricey than others
Dailygreatness Journal
Yearly Diary
Day To A Page Appointment Planner
Goal Planner
Weekly Planners
Gratitude journal
Designed to be a practical guide to consciously create your days, the Dailygreatness Original Diary and Planner is a must-have if you're looking for motivation.
One thing you'll first notice when you get this planner is the flex-bound cover. Apart from being durable, the cover is also lightweight and sturdy. You'll love the premium quality paper that comes with silk ribbon markers. It has 52 undated weeks and six daily pages per week.
Additionally, you can use this diary to form great habits like meditation, dream journaling, gratitude, exercise, and inspired actions.
The best thing about this planner is that it functions more than a planner. It also acts as a diary that you can use to set and achieve goals, change old habits, and acknowledge your strengths and weaknesses.
Pros
Comes with a durable cover and is easy to write on page
Perfect for building healthy habits that will help you achieve your goals
Has guided templates that you can use
Works as a diary and a planner
Designed to be used throughout the year
Cons
It may not be ideal for a mom looking to assign to-do lists and ordinary tasks
Buyers Guide: What Should You Look For in the Best Planner?
The right mom planner allows you to stay on track of your daily tasks and remember important dates.
However, picking the best planner isn't always easy given the multiple options available. Our detailed guide has some timely tips to help you narrow down your options and find the best planner based on your needs.
Determine Your Needs
Do you need the planner for your professional or personal scheduling? Are you looking for a planner that allows you to set weekly or monthly goals?
Determine the details you need and what features you'd like your planner to have. Understanding your needs will help you pick a planner that best works for you.
Ease of Use
The right planner should be simple to use and well-organized.
You don't want to end up with a complicated planner that makes it difficult to track down your goals or keep up with important dates. Find a planner that is designed to help you achieve your daily, weekly, or monthly goals, and still improve your productivity.
Don't forget to also check the size of the planner. Decide on whether you want a compact size that's easy to carry around or if you're comfortable with any size.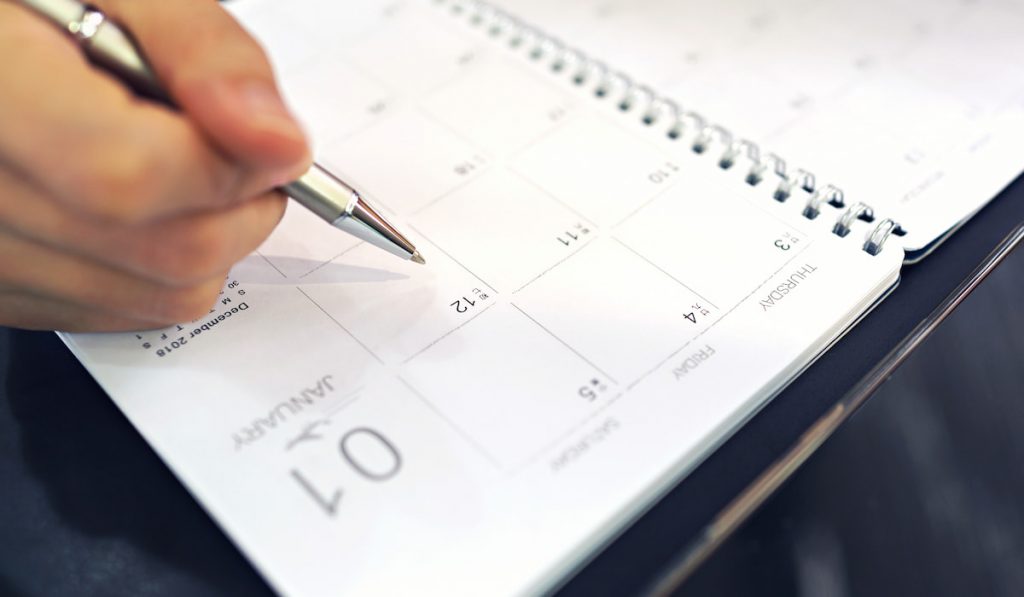 Find Out if The Planner Has Customization Options
Some planners have customization options, a feature that gives you control over how your planner looks. Furthermore, customizable planners are perfect for handling your organizational needs.
A good example is the Purple Trail Planner which allows you to determine the layout of the planner and choose your start date. Other planners allow you to add extra designs or inserts to your planner.
Decide on a Budget
Are you on a tight budget or are you willing to spend a bit more for a quality planner? You can find plenty of budget-friendly options if you're looking for a quality planner without a lot of features.
Planners with extra details and features are available at a premium and are an excellent choice if you're looking for specific features.
Final Thoughts
The best planner can help you keep track of your daily schedules, plan your meals, set career goals, and keep up with your self-care routine. You'll appreciate how a simple outline can help you plan out your year and make a huge impact on your life.
Choose one of the listed planners on our list above and start your journey to living a balanced life.